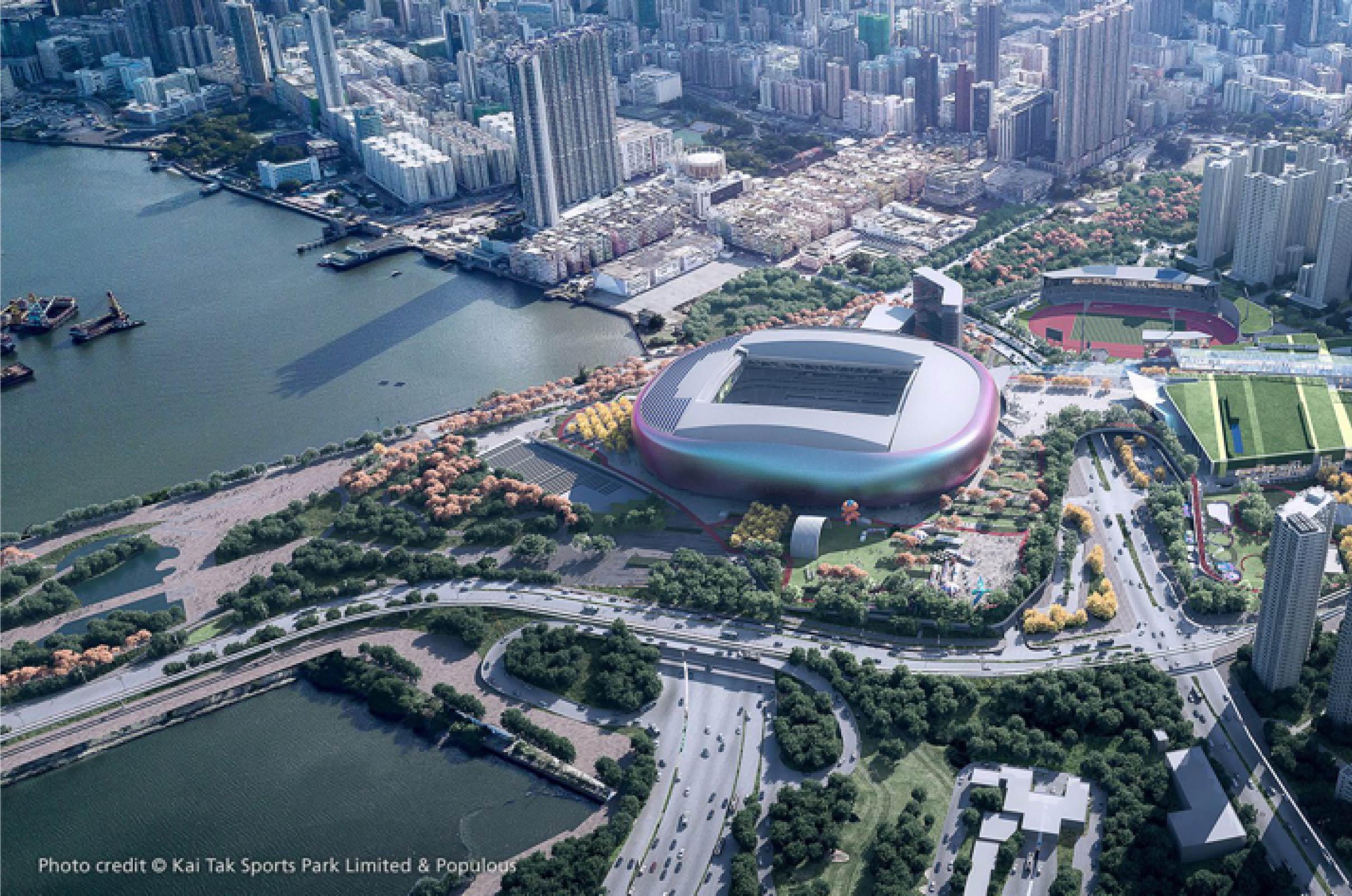 Use of RamsetReid Precast solution including Lifting anchors, clutches and cast-in anchors to deal with the one of the biggest and signature project in Hong Kong.
Submitted by:
Ramset Fasteners (HK) Limited - James Ho
Name of Project
Kai Tak Sports Park
Exact location of project
Kai Tak Sports Park, a world-class sports infrastructure in Hong Kong which covers around 28 hectares, a new 50,000-seat main stadium with a retractable roof for public enjoyment. It also features a variety of facilities such as outdoor ball courts, open lawn areas, children's play areas, fitness stations and more.

The Kai Tak Sports Park is the most important investment of the Government in sports infrastructure in recent decades. Occupying 28 hectares of land, the Kai Tak Sports Park is about 9 hectares larger than the Victoria Park and will contribute significantly to sports development of Hong Kong.

A Main Stadium with a fixed seating capacity of 50,000, with the theme "Pearl of the Orient" as its design inspiration, it boasts a retractable roof and flexible pitch surface that can host a wide range of international, regional and local events in any weather.
The facility has been designed to meet the standards of major international events with customisable staging and seating configurations that cater to various events and crowd sizes. It also adopts a flexible pitch system which can be switched between quality natural turf for premier football or rugby events, to other surface for a myriad of sports, entertainment, and community events. The South Stand honours the great Hong Kong Rugby Sevens tradition, with a vast activity platform set against a panoramic glass wall that provides exceptional views toward Victoria Harbour.

An Indoor Sports Centre with a seating capacity of up to 10,000, with 80% of the seats retractable or removable that caters for different events. The venue has been designed to meet the standard of major international tournaments including badminton, basketball, gymnastics, tennis and table tennis. The ancillary sports hall offers a seating capacity of up to 500.
With the use of different arena overlay floor surfaces and removable spectator seating system, the venue can be configured for different sports activities, from elite competitions to community use. Together, the main arena and ancillary sports hall can provide the equivalent space of 12 standard basketball courts for community use when all spectator seats are removed.

A Public Sports Ground with a seating capacity of 5,000, suitable for hosting school sports days, athletics meets, local football and rugby matches, as well as team and athlete training sessions. With the exception of major events, the Public Sports Ground will be open daily to the public for jogging and quali-walk free of charge.

Exact location and details are given in the link below:
https://kaitaksportspark.hk/en

Start date
The site started in 2019

products are purchased start from late 2020

Finish Date
2023
The main stadium will be built by concrete precast. The shape of the precast would look like staircase, while the 50,000 seats will be installed on top of the staircase and the E&M services will be installed under the staircase. To match with the tight construction schedule, cast-in anchors will be casted in the precast factory in mainland for the E&M fixing on-situ. Also to meet the flexibility requirement, cast-in anchors will be used for the seat fixing. The entire precast unit will be lifted by Ramset Reid Lifting system with lifting anchors and lifting clutches.
RamsetReid lifting system has provided outstanding benefits over the traditional lifting listed below:
Test report on tensile strength test are provided, and annually renewal on the test report to fulfil HKHA requirement.
In-house tensile strength test for each batch of production to ensure RamsetReid product in good condition and quality.
RamsetReid special design clutch is paired up with RamsetReid Lifting anchors to ensure safe lifting on site. The clutches conducted non-destructively proof tested to 2 times the safe working load prior to leaving the factory.
Calculation and design services on lifting are provided to customer for choosing right lifting solution which suit for the Precast CoP with FOS = 4.
Wide range of different loading capacity and application lifting anchors to suit for varied site conditions such as foot anchor for slab and staircase, eye anchor for thin panel, edge lift anchor for tilt up, etc.
Proved record on safety and wide range of job reference from HKHA, ASD, and private residential development.
RamsetReid Cast-in Anchor is one of the best solution in precast segment:
No post-drill is required on site so that no risk on clashing with reinforcement or damage to concrete substrate.
No on-site post-drill means dust-free which is environmental friendly.
Minimized edge and spacing distance comparing with post-drill anchors.
Shorter embedment depth is required for cast-in anchors.
Fast on-site installation by simply bolt and nut.
Lower in cost comparing with Cast-in Channel.
On the Building Department Central Data Bank List which is easy for BD approval.
Applicable to cracked and non-crack concrete.
Detail who the key players are (If known) List company name, responsibility, contact, position and their involvement if applicable. "Other" maybe the asset owner, tenant, etc.
Client
Kai Tak Sports Park Ltd
Architect and Consultant / Specifier
Populous - in terms of Architect design
Sportfive - in terms of Sports Venue design
Arup – in terms of Structural design
Contractor

(Design and Build)

Hip Hing Engineering
Subcontractor
Young's Engineering Co., Ltd. – E&M contractor
Redland Precast Concrete Products (China) Ltd – Precast Supplier