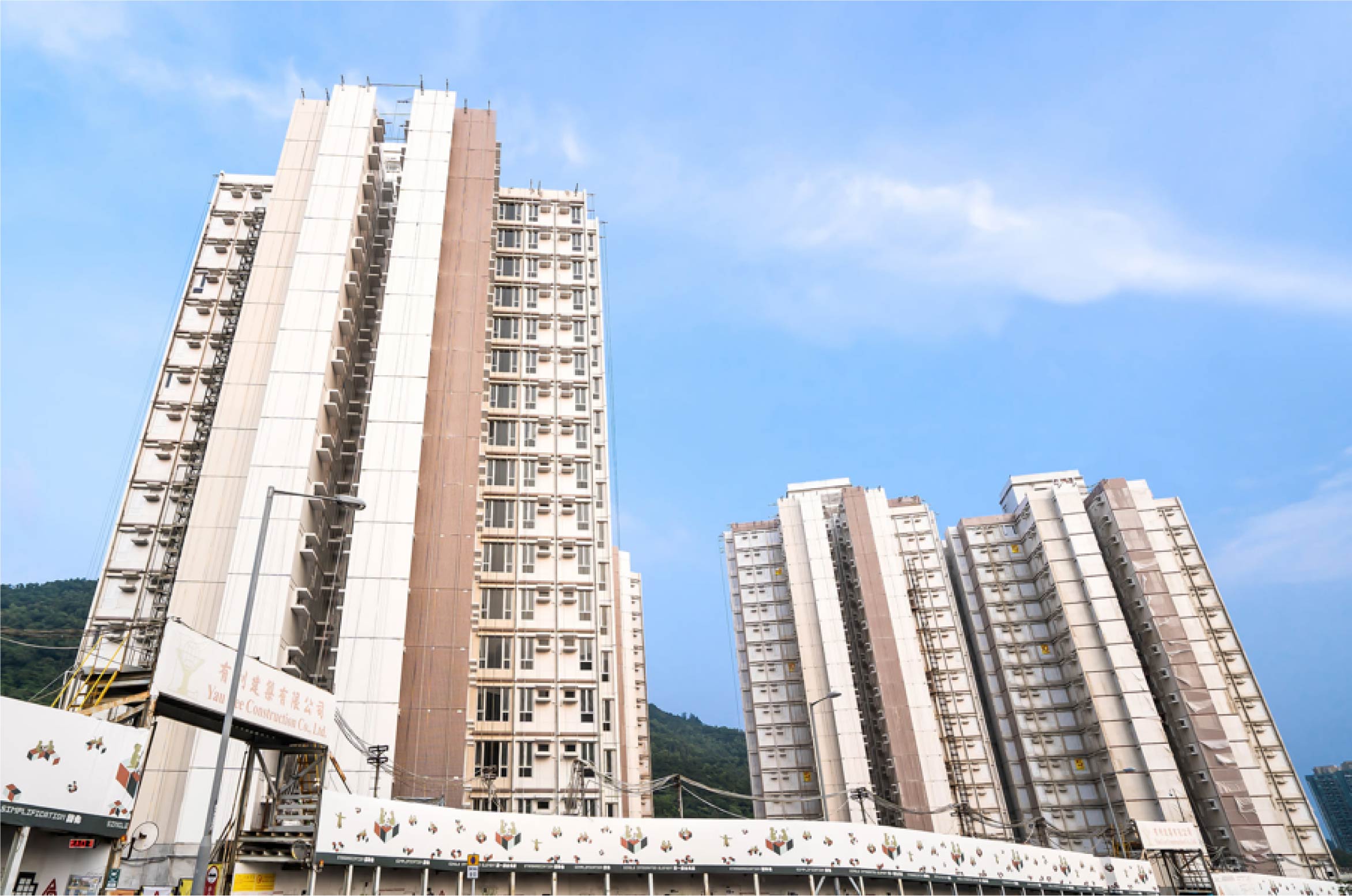 Use of RamsetReid Precast solution including Lifting anchors, clutches and cast-in anchors to deal with the latest construction technology in MiC that overcome the challenges on extreme heavy precast unit with limitation on lifting, safety and logistic needs.
Submitted by:
Ramset Fasteners (HK) Limited - James Ho
Name of Project
Disciplined Services Quarters for the Fire Services Department at Pak Shing Kok in Tseung Kwan O
Exact location of project
The Architectural Services Department's 'Disciplined Services Quarters for the Fire Services Department at Pak Shing Kok, Tseung Kwan O' is the first public works project adopting MiC in Hong Kong. The development consists of about 3,800 MiC modules. It comprises five quarters blocks, among which four have 16 storeys and one has 17 storeys. With 8 units on each floor, the quarters will provide 648 three-bedroom units of 50 square metres. The development also comprises of ancillary facilities including a Building Management Office, a Multi-Function Room, outdoor children playground and covered walkway etc. The Architectural Services Department hopes that the development of the project could facilitate to promote sustainable development of the construction sector.

Exact location and details are given in the link below:

Start date
The site started in Aug 2018.

(products are purchased during following period - early 2019 ~ mid 2020)

Finish Date
Q2 2021
Overview: What is this case study and why have you selected it.
The focus of this case study is how Ramset product could suit for the needs in the latest construction method MiC. For MiC construction method, the precast unit is relatively heavy in weight comparing with traditional precast method as it consists 6 sides including ceiling, floor slab and walls. Also, all the interior such as screeding, finishing, flooring, tiles, windows, doors and even part of the furniture were finished in the precast factory which caused the weight even heavier. In addition, due to the road regulation, there is limitation on the size of the unit that the width could not be over 2.3m which caused extra consideration on design. This first concrete MiC project brought many challenges for the contractor as well as Ramset.
Brief introduction of the project on news paper
Lifting of the precast unit by RamsetReid Lifting anchors and Lifting Clutches.
Due to the road regulation, the width of the precast unit is limited to 2.5m, thus some of the AC platform and architecture fins need to be installed on site by pre-install Ramset Cast-in anchor CIM12SS316 (BD CDB ref: BD-AF 139 for cracked and non-cracked concrete) and fixed by bolt and nut.
RamsetReid lifting system has provided outstanding benefits over the traditional lifting listed below:
Test report on tensile strength test are provided, and annually renewal on the test report to fulfil HKHA requirement.
In-house tensile strength test for each batch of production to ensure RamsetReid product in good condition and quality.
RamsetReid special design clutch is paired up with RamsetReid Lifting anchors to ensure safe lifting on site. The clutches conducted non-destructively proof tested to 2 times the safe working load prior to leaving the factory.
Calculation and design services on lifting are provided to customer for choosing right lifting solution which suit for the Precast CoP with FOS = 4.
Wide range of different loading capacity and application lifting anchors to suit for varied site conditions such as foot anchor for slab and staircase, eye anchor for thin panel, edge lift anchor for tilt up, etc.
Proved record on safety and wide range of job reference from HKHA, ASD, and private residential development.
RamsetReid Cast-in Anchor is one of the best solution in precast segment:
No post-drill is required on site so that no risk on clashing with reinforcement or damage to concrete substrate.
No on-site post-drill means dust-free which is environmental friendly.
Minimise edge and spacing distance comparing with post-drill anchors.
Shorter embedment depth is required for cast-in anchors.
Fast on-site installation by simply bolt and nut.
Lower in cost comparing with Cast-in Channel.
On the Building Department Central Data Bank List which is easy for BD approval.
Applicable to cracked and non-crack concrete.
Detail who the key players are (If known) List company name, responsibility, contact, position and their involvement if applicable. "Other" maybe the asset owner, tenant, etc.
Client
Yau Lee Construction Materials Limited
Architect and Consultant / Specifier
Ho & Partners Architects Engineers & Development Consultants Ltd-  in terms of Architect design
Jacobs -  in terms of structural design
Contractor

(Design and Build)

Yau Lee Construction Co., Ltd.
Subcontractor
Yau Lee Construction Materials Limited – Precast supplier